Blank Pixels is celebrating its second year blogversary together with Mhel's 30th birthday with a big contest. Entitled "
Thirty on 30
," the contest being hosted by Blank Pixels is giving away over $300 worth of prizes (over $100 of Paypal cash, Real Love T-shirts, gift certificates, SMS prepaid load, Adgitize advertising, blog makeovers and blog hosting package) .
There are a variety of tasks to accomplish in order to join and get a chance to win in Mhel's contest. To give you an idea to join the contest you need to write a blog post about the changes in your life; follow blogs and like Facebook pages. Other optional tasks include reviewing sponsor blog posts, first commenting on blog posts and tweeting about the contest . All of these tasks will surely make the contest really challenging and only those who strive to win will win. Be sure to read all the
contest mechanics
carefully so you won't be disqualified. Just click the mechanics link or the banner below to see all the contest details. By the way, contest ends November 30, 2010. So, hurry and join now.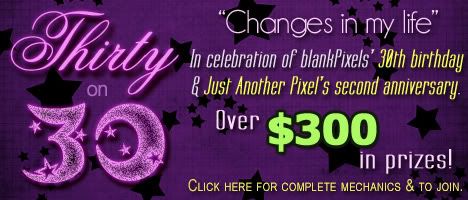 Primary Sponsors

● Everything Nice! ● News Break Online ● Fat Girl No More ● Written by Mys ●
● My Thoughts, My Heart, My Turf ● ZoWanderer ● Just the Tip of an IceBerg ●
● Just About Anything ● Blogger Manila ● Dress Up Your Blogs ●
● Certified Foodies ● Pinay Online Money Maker ● Pinay Reviewer ●

Secondary Sponsors

● Georyl: Blogging with my Heart ● Pop Ups of My Mind ● Blog Tactic ● Grace in Creative Life ●

General Sponsors

● Make Money Online and Beyond ● One Proud Momma ● Lover Mushroom ● Plate and Me ● Paula's Home ● Make More Money Online ● The Miscellaneous Me ● Here, There and Everywhere ● Travels and Explorations ● Musings of Life ● Kharen's Corner ● It's Kha ● Noypistuff ● Jennyholic, Confession of an Addict ● Deej Speaks ● Techie Things ● Cups and Lowercase ● Live for Live ● Experience of a Super Mom ● Sharing my Thoughts ● Yashiro's Journal ● Table for Five ● Internet Cafe Blog ● blankPixels – The Geek Side ●