It's been raining every now and then already. Thank God, we haven't had any
flooding here
yet. I hope that the newly built dike or riprap (more than 3 meters high from the water surface) by the city government at the back of our house will really help in flood control.
You see, we have a creek at the back of our house. Last year, the water in the creek rose to about one hollow block away from flooding our place. I pray that the Lord will spare our country from super typhoons and extreme rainfall this year.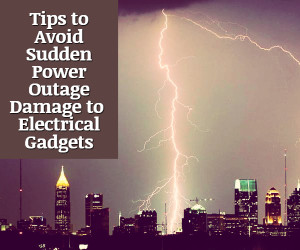 Image by David Selby (David Selby myself) CC BY-SA 3.0 or GFDL , via Wikimedia Commons
Moving on with my post topic … Lightning and thunder are pretty common, too, nowadays. In conjunction with these, have you noticed having sudden power outage? Even for just a few seconds? The other night, we had two such occurrences.
Guess, what happened?
The first time the power outage happened, I was charging my laptop. I didn't immediately notice anything after the power went back on a few seconds later. When my laptop battery is almost drained, I reconnected the charger but nothing happened. I connected it to another power outlet, but still it did not charge my laptop. My charger was broken. OH NO!
Well, this is not the first time something happened with our gadgets after a power outage and ensuing power surge. I think it was just 2 months ago when our internet router malfunctioned and our internet provider had to replace it with a new one. Prior to that, another incident caused our desktop wired DSL connection to malfunction.
So, what can we do to avoid such power surge damage to our electrical gadgets? Two things.
Surge Protector. By Encryptedruler (Own work) [CC BY-SA 3.0], via Wikimedia Commons
1. It's a good idea to invest in a surge protector or voltage regulator to protect our gadget from sudden power surges. This is highly recommended for expensive appliances such as refrigerator, TV and computer. Check out this
post
to know how to buy a good and safe surge protector.
2. Turn off any electrical gadget or appliance immediately after a power outage. Then, turn them on only after the power supply has returned and stabilized for a few minutes.
Now, what am I supposed to do with my laptop charger? The good thing is it has a built-in fuse to protect it against excessive current. Thank you, Acer! My husband is becoming a better handyman and was able to replace the fuse. That saved us money for the supposed repairs.
Now, the only thing that I would like to do is buy another power bar with surge protector to replace our insecure power strip.